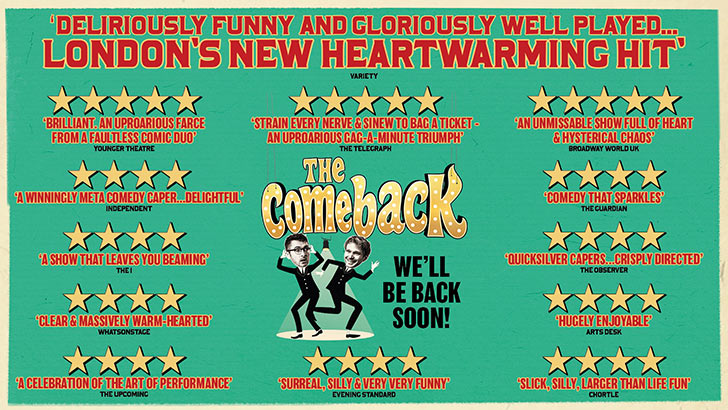 "I had a knot in my stomach from laughing so much"
THE TIMES

THE COMEBACK, a brilliantly original and hilarious new comedy, is set to delight all generations at the Noël Coward Theatre this December. This debut play from The Pin's award-winning Ben Ashenden and Alex Owen - 'destined to become one of the great comedy duos' (Radio Times) - tells the story of two double acts fighting to wrestle control of the most chaotic, farcical and high-stakes gig of their respective careers. Directed by Emily Burns, THE COMEBACK will have audiences doubled over laughing and wiping a tear away at the end with its heart-warming exploration of bittersweet nostalgia and the enduring power of friendship. This show is a much needed dose of feel-good, dizzying escapism with real emotional heart, and a celebrity guest each night to boot.

Up-and-coming comics Ben and Alex have been booked in the warm-up spot for a beloved but fading double act's comeback tour. Neither duo are delighted to be playing to a sparse crowd in a sleepy, seaside town, but when it's revealed that a Hollywood director is in the audience, both acts glimpse a final chance for their big break. Cue sabotage, mistaken identity and full on farcical mayhem, as the performance descends into a desperate battle for the limelight.

With the action alternating between offstage and on, and the tone between Noises Off and Morecambe and Wise's old-school charm, this is a warm-hearted, joyful, and dazzlingly funny new comedy.

"A bulletproof nugget of comic theatre"
THE GUARDIAN

"Will simply make you laugh your socks off"
EVENING STANDARD
The Comeback Performance Times
---
Please note: As an advisory to adults who might bring young people. All persons under the age of 16 must be accompanied by and sat next to the accompanying adult. They may not sit on their own within the auditorium. If children do have separate seats you could be refused entry. All persons entering the theatre, regardless of age, must have a ticket.

Tuesday - Sunday: 7.30pm
Saturday and Sunday: 2.30pm
Show Running Time
The running time of THE COMEBACK is 85 minutes.
Auditorium and Bar Opening Times
Opening times for the bars and auditorium will be confirmed soon. Please check back regularly for an update.
Christmas & New Year Schedule 2020/2021
Tue 22nd Dec 2020: 2.30pm and 7.30pm
Wed 23rd Dec 2020: 2.30pm and 7.30pm
Thur 24th Dec 2020: 2.30pm
Fri 25th Dec 2020: No Performances
Sat 26th Dec 2020: No Performances
Sun 27th Dec 2020: 2.30pm and 7.30pm

Tue 29th Dec 2020: 7.30pm
Wed 30th Dec 2020: 2.30pm and 7.30pm
Thur 31st Dec 2020: 2.30pm
Fri 1st Jan 2021: No Performances
Sat 2nd Jan 2021: 2.30pm and 7.30pm
Sun 3rd Jan 2021: 2.30pm and 7.30pm
The Comeback Ticket Prices
---
Standard Tickets
From: £10.00
Premium Tickets
From: £55.00
Please check individual performances for price availability.
Book Tickets
---
Booking Fees
No booking fees.
Prices include a £1.25 theatre restoration levy which contributes to the on-going refurbishment of our eight theatres. For more information click here.
All ticket prices are subject to change based on demand. Book early to ensure the best seats at the best prices.
The Comeback at Noël Coward Theatre
---
Please note: Hot food is not permitted in the venue and any food consumed in the auditorium must have been purchased at the theatre.
Our theatres sell products which may contain allergens. Allergen information is available upon request from all bars or other staff selling refreshments around the venue.
Book With Confidence – COVID-19 Information
---
In line with Government guidance, this production will take place with venue-wide safety procedures in place. Full information will be sent to all ticket holders ahead of their performance.
You can also view further COVID-19 information and safety guidance for your visit, using the buttons below:
LONDON COVID-19 TIER LEVEL
With effect from Saturday 17th October, London moved to Tier 2 (high) restrictions. Performances are still able to go ahead, but patrons must only be seated with members of their own household or somebody they have formed a support bubble with.
If this affects a booking you have already made, please contact customer services via the button below.
FREE OF CHARGE EXCHANGES
If you are unable to attend due to becoming unwell or are having to isolate, you will be able to exchange your tickets free of charge up to 24 hours before your performance.
E-TICKETS
To reduce contact, scannable e-tickets will be available for this production. You can present these on your mobile device or print them off.

All tickets will be dispatched closer to your performance date.
ACCESS PATRONS
To ensure we can provide the level of service you expect of us, we ask that Access patrons please complete the form on the link below to request tickets. We will then process these on a first come, first served basis.
SOCIALLY DISTANCED SEATING
The auditorium has been organised into socially distanced groups of 1 to 6. These groups must be purchased in full at the time of booking.

The maximum number of tickets you are able to purchase, per household, is 6.

ACCESS BOOKINGS FOR The Comeback
---
Please submit your access requirements and preferred performance dates via the form below.
A member of our Access team will reserve your seats on a first come first served basis, where availability allows.
---
ACCESS BOOKING ENQUIRY FORM
Fields marked * are required.