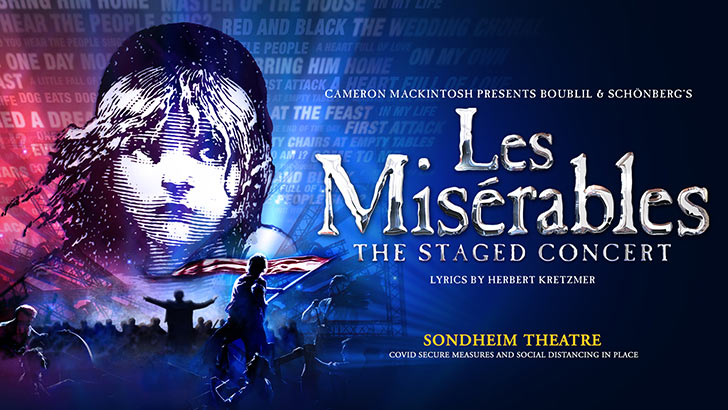 Please note that performances of LES MISÉRABLES - THE STAGED CONCERT have been cancelled up to and including 28th February.

LES MISÉRABLES - THE STAGED CONCERT opened to critical acclaim at the Sondheim Theatre in December 2020, and was extended twice by phenomenal public demand to 28th February 2021. 'Vive Le West End!' proclaimed The Telegraph. 'Theatregoers are back. This is humanity singing its lungs and heart out, and safely too'.

'By the time it got to Do You Hear the People Sing? I was pretty much hyperventilating into my mask. I doubt I was alone.'
- The Times

'A dream come true! The world's favourite musical returns in triumph to London's West End primed to thrill all over again'
- Daily Mail

'We want this, not just for Christmas but the rest of our lives. Not just one day more, but years to come'
- The Telegraph

Covid safety measures and social distancing will be in place front of house, on stage, backstage and throughout the building.
Les Misérables: The Staged Concert Performance Times
---
Tuesday - Saturday 7.15pm
Saturday: 2.00pm
Sunday: 3.00pm

For performances between the 18th and 31st January, John Owen-Jones will play the role of Jean Valjean on Tuesday evenings, Wednesday matinees and Saturday matinees. Michael Ball will not be performing at the evening performances on the 20th and 27th January. Further casting to be announced.

The appearance of any performer cannot be guaranteed. All casting may be subject to last minute changes, especially due to the current pandemic and strict safety measures in place (which includes regular testing of the company).
Show Running Time
The running time of LES MISÉRABLES: THE STAGED CONCERT is 2 hours and 45 minutes.
Les Misérables: The Staged Concert Ticket Prices
---
Standard Tickets
From: £22.50†*
Please check individual performances for price availability.
Book Tickets
---
Booking Fees
†Some seats may have a restricted view.
*All prices include a £2.50 online booking fee. Booking fees do not apply to tickets purchased in person at the box office.
All ticket prices are subject to change based on demand. Book early to ensure the best seats at the best prices.
Les Misérables: The Staged Concert at Sondheim Theatre
---
Please note: Hot food is not permitted in the venue and any food consumed in the auditorium must have been purchased at the theatre.
Our theatres sell products which may contain allergens. Allergen information is available upon request from all bars or other staff selling refreshments around the venue.
Book With Confidence – COVID-19 Information
---
In line with Government guidance, this production will take place with venue-wide safety procedures in place. Full information will be sent to all ticket holders ahead of their performance.
You can also view further COVID-19 information and safety guidance for your visit, using the buttons below:
LONDON COVID-19
Following the latest Government announcement, England is currently under Lockdown restrictions. Because of this, performances of LES MISÉRABLES - THE STAGED CONCERT have been cancelled from 1st March onwards.
Performances of THE COMEBACK have been postponed.
All affected customers will be notified ahead of their chosen performance if their booking is affected, with further details. There is no need to contact us directly.
Thank you for your patience and understanding.
FREE OF CHARGE EXCHANGES
If you are unable to attend due to becoming unwell or are having to isolate, you will be able to exchange your tickets free of charge up to 24 hours before your performance.
E-TICKETS
To reduce contact, scannable e-tickets will be available for this production. You can present these on your mobile device or print them off.

All tickets will be dispatched closer to your performance date.
CREDIT VOUCHERS
Customers with LES MISÉRABLES Credit Vouchers will be able to redeem them for this production.

Please note that as this is a different production, prices will be different to the regular production of LES MISÉRABLES.
SOCIALLY DISTANCED SEATING
The auditorium has been organised into socially distanced groups of 1 to 6. These groups must be purchased in full at the time of booking.

The maximum number of tickets you are able to purchase, per household, is 6.

Les Misérables: The Staged Concert CAST SCHEDULE
---
The LES MISÉRABLES - THE STAGED CONCERT February cast schedule is to be confirmed.
Please check back again soon for more information.