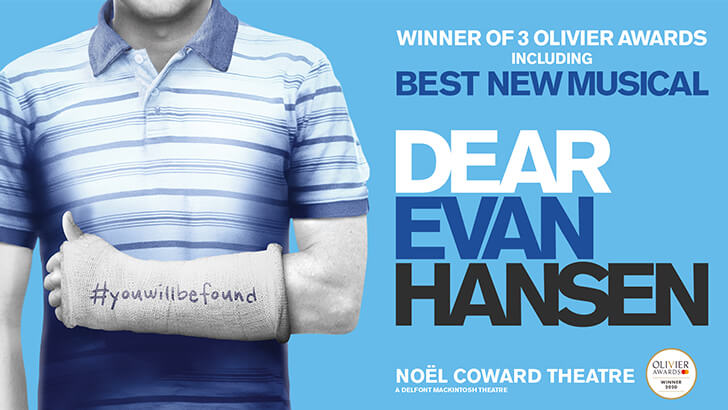 Dear Evan Hansen
Ticket Lottery
Please note: As an advisory to adults who might bring young people. All persons under the age of 16 must be accompanied by and sat next to the accompanying adult. They may not sit on their own within the auditorium. If children do have separate seats you could be refused entry. All persons entering the theatre, regardless of age, must have a ticket.
The DEAR EVAN HANSEN ticket lottery takes place every Wednesday at midday (GMT). You will be able to access the lottery via links below, which will become available 5 minutes before the lottery begins.
When you enter the lottery page you will be assigned a random number. At midday (GMT), those who have won the lottery will be automatically redirected to the booking pages.
Should you win, you will be able to purchase up to two (2) tickets at £25 each for one (1) performance for the following week.*
Please note: There are a limited number of tickets available for each performance and therefore we cannot guarantee availability for any particular performance. However, if your chosen performance is sold out, please check other performances for availability.
In light of the ongoing situation, this ticket lottery has been postponed. Please check back regularly for further updates.
FUTURE LOTTERY NOTIFICATIONS
Sign up below to be notified when other ticket lotteries are available from Delfont Mackintosh Theatres.
* All fields are required