★★★★★
'Brilliant. Like shaking hands with a childhood memory.'
Daily Mail

Best remembered for playing Mr Banks in Disney's classic film Mary Poppins, David Tomlinson was renowned for playing the classic English gent, forthright, proper, and a loveable fool. His meeting with Walt Disney came to encapsulate his incredible life full of adventure and heartbreak.

The man who portrayed one of cinema's most famous patriarchs was defined by his relationship with his own father - a remote eccentric, who was hiding an extraordinary tragicomic secret.

THE LIFE I LEAD sees Miles Jupp, one of Britain's leading comics and actors (Mock the Week, The News Quiz, Rev, The Durrells) bring David Tomlinson's remarkable story to life.

A richly comic and moving tale of fathers and sons across the generations, THE LIFE I LEAD fills in the blanks behind a very well-known face.

'Perfect comic timing.'
The Times

'It dazzles'
The Telegraph

Following a hugely successful UK tour, THE LIFE I LEAD transfers to the West End for 8 performances only.

As an advisory to adults who might bring young people. All persons under the age of 16 must be accompanied by and sat next to the accompanying adult. They may not sit on their own within the auditorium. If children do have separate seats you could be refused entry. All persons entering the theatre, regardless of age, must have a ticket.

The Life I Lead Performance Times
---
Monday - Saturday: 7:30pm
Thursday & Saturday: 2.30pm
Show Running Time
The running time of THE LIFE I LEAD is 2 hours including an interval.
Auditorium and Bar Opening Times
For evening performances a theatre bar will be open from 6.00pm and the auditorium will open at 7.00pm. For matinee performances a bar will open at 1.30pm and the auditorium will open at 2.00pm.
The Life I Lead Ticket Prices
---
Standard Tickets
From: £17.50*
Premium Tickets
A limited number of the very best seats, previously held for the Producers or VIPs, are now available to book in advance.
From : £62.50*
Please check individual performances for price availability.
Book Tickets

---
Booking Fees, Inclusions and Validity Information:
*All prices include a £2.50 fee for bookings made online or over the phone. Booking fees do not apply to tickets purchased in person at the box office.
Prices also include a £1.25 theatre restoration levy which contributes to the on-going refurbishment of our eight theatres. For more information click here.
Please note: Seating plans are not accurate representations of the auditorium. While we try to ensure they are as close to the actual theatre plan as possible we cannot guarantee they are a true representation. Customers with specific requirements are advised to discuss these with a member of staff prior to booking to avoid any confusion.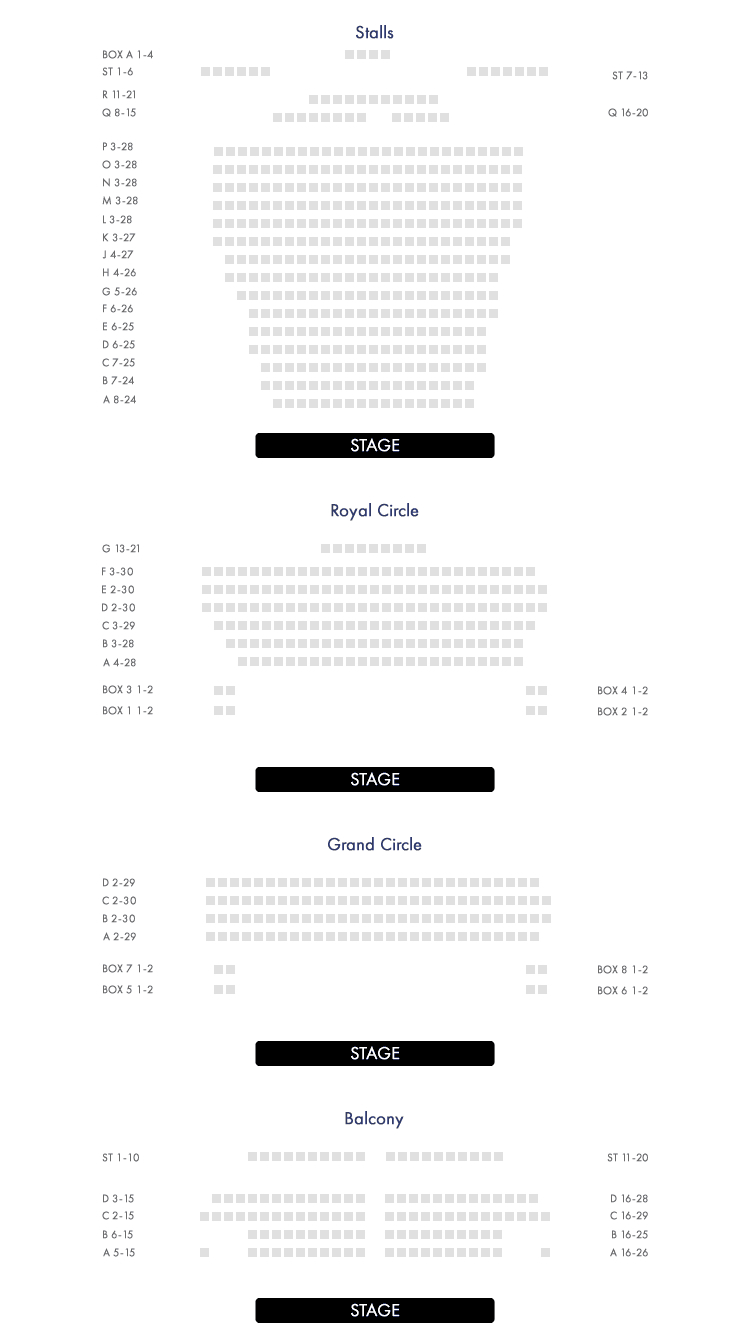 Access at Wyndham's Theatre
---
Discounts are offered, subject to availability, for disabled theatregoers and one companion, including wheelchair users and Patrons who have specific access requirements.
Access customers must use the buttons below to book specific Access performances (when available).
Access bookings and further information can be requested by calling 0344 482 5137 or emailing access@delfontmackintosh.co.uk.
Wyndham's Theatre Access Information
For further Access information at Wyndham's Theatre please use the Theatre Access Information button
Groups Bookings
---
Groups (10+)
Band A reduced to £37.50, valid Monday - Thursday.
---
Calls to Delfont Mackintosh Theatres 0844 numbers cost 7 pence per minute plus your phone company's access charge.
All group and education rates and prices are strictly subject to availability and exclusions. Prices include Restoration Levy where applicable and booking fees may apply. Group rates are not valid on Premium seating. Rates and prices may be changed or withdrawn at any time.
See more Groups & Education offers:
For Musicals
For Plays
For Arts & Events
To add some extra sparkle to your evening, why not upgrade your The Life I Lead booking to one of our Champagne or VIP Packages?
Champagne Package
---
Prices start from £100.00 per person, inclusive of VAT.
If you have already purchased your tickets, you can add this package from £40 per person, inclusive of VAT. Please call 020 7766 2112 to upgrade your booking.
VIP Package
---
Prices start from £155.00 per person, inclusive of VAT.
If you have already purchased your tickets, you can add this package from £95 per person, inclusive of VAT. Please call 020 7766 2112 to upgrade your booking.

---
Please note:
Champagne packages are only available to book until 4.00pm on the day of the performance and until 4.00pm on Fridays for weekend performances.
VIP Reception packages require a minimum of one week's notice. For all VIP Reception packages, supplement fees apply for parties of less than four guests.
Group discounts apply, please ask us for more details.
Hospitality gift vouchers are now available. The perfect option that allows the recipient to choose the show and date that suits them. Ask us for more information.
Hospitality Terms and Conditions
Hospitality prices vary from show to show and are strictly subject to availability. Prices include Restoration Levy where applicable and supplements may apply. Rates and prices may be changed or withdrawn at any time.
Excludes non Delfont Mackintosh Theatres' venues and one off performances
Allergies and Dietary Requirements
We will endeavour to provide alternative menus for any dietary requirements notified within three days of any event. Any additional costs involved for outsourcing catering to specialist companies (such as Kosher) will be chargeable. If we are notified of any allergies we will ensure that these ingredients are not used in the food provided, however we cannot guarantee any dishes are free from trace elements due to the nature of the kitchens.
Please be aware that our products may contain nuts or nut traces.
A menu detailing any allergens used in our food will be available at your event; please ask your designated host if you would like to see it.
Food Safety
Our caterers follow strict health and safety guidelines. Chilled food can only be left out of refrigeration for a maximum of four hours. After this time the food will be deemed unsafe and consequently disposed of. Delfont Mackintosh Theatres cannot therefore allow food to be removed from the venue for the client to dispose of.
Licensing Law
Our licence dictates that all beverages must be consumed on site during the performance times.
ID may be requested for anyone that appears to be under the age of 25.
Hospitality Cancellations
Hospitality bookings (both with and without tickets) cannot be refunded but they may be exchanged prior to the performance provided a minimum of ten days notice is given, subject to availability and a handling fee.
For all other terms and conditions please click here.
The Life I Lead at Wyndham's Theatre
---