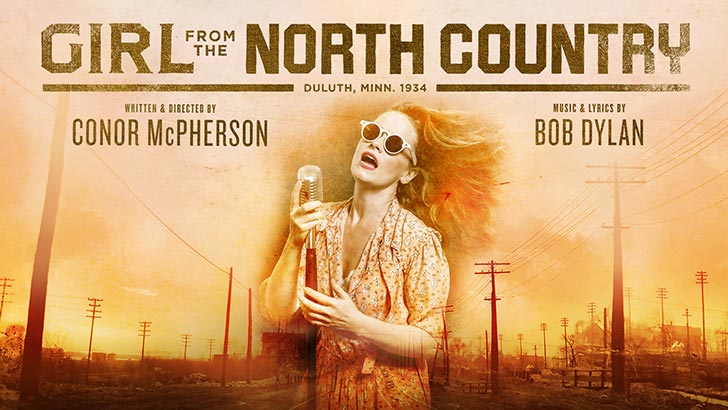 "BOB DYLAN's songs have never sounded so
HEARTBREAKINGLY PERSONAL & UNIVERSAL.
AS CLOSE AS MORTALS COME TO HEAVEN ON EARTH"
- Ben Brantley, The New York Times

1934. A time-weathered guesthouse in the heartland of America. Only a song can shake off the dust for one group of wayward souls-and old dreams may hold the promise of new beginnings. As they pass in and out of each other's lives, their stories awaken with passion, fury and extraordinary beauty.

Reimagining the music of Bob Dylan as roof-raising ensemble pieces and soul-stirring solos, celebrated playwright Conor McPherson (The Weir, The Seafarer) writes and directs this heartbreaking and universal story about family and love. Hailed by the Observer as the 'NO.1 THEATRE SHOW OF THE YEAR' audiences now have the chance once again to experience this 'magnificent' (Standard), 'astonishing' (Guardian) and 'piercingly beautiful' (Independent) production brought vividly to life by an extraordinary company of actors and musicians.

The cast will include Katie Brayben, Donald Sage Mackay, Anna Jane Casey and Rachel John. Katie Brayben will play Elizabeth Laine. Brayben originated the role of Carole King in the West End production of Beautiful, for which she was awarded the Olivier Award for Best Actress in a Musical. Further credits include MAMMA MIA! and King Charles III. Donald Sage Mackay returns to the West End to play Nick Laine, after featuring in True West. Television credits include: Modern Family, Mad Men, Fraiser, The Good Wife, House, West Wing, Criminal Minds, Weeds, Star Trek Enterprise, ER & Scrubs. Film Credits include: Transformers: Revenge of the Fallen. Anna-Jane Casey plays Mrs Burke, fresh from a UK tour of Calendar Girls. Previous West End credits include Billy Elliot, Stepping Out & Spamalot. West End regular Rachel John will join the cast as Mrs Neilsen. John's West End credits include: Hamilton, The Bodyguard, Memphis, We Will Rock You, Sister Act & Lion King.

Full confirmed UK cast: Daniel Bailey (Ensemble), Colin Bates (Gene Laine), Katie Brayben (Elizabeth Laine), Anna Jane Casey (Mrs Burke), Nicholle Cherrie (Ensemble), David Ganly (Mr Burke), Simon Gordon (Ensemble), Steffan Harri (Elias Burke), David Haydn (Ensemble), Rachel John (Mrs Neilsen), Sidney Kean (Mr Perry), Finbar Lynch (Reverend Marlow), Donald Sage Mackay (Nick Laine), Gloria Obianyo (Marianne), Ferdy Roberts (Dr Walker) Wendy Somerville (Ensemble), Gemma Sutton (Katherine Draper) and Shaq Taylor (Joe Scott) and Alan Vicary (Ensemble). Further casting to be announced.

★★★★★
"A show that transports the soul. Incredible"
Times

★★★★★
"It's the most powerful, affecting and original musical in London."
Sunday Express

★★★★★
"Conor McPherson weaves magic with Bob Dylan's songs"
The Observer

As an advisory to adults who might bring young people. All persons under the age of 16 must be accompanied by and sat next to the accompanying adult. They may not sit on their own within the auditorium. If children do have separate seats you could be refused entry. All persons entering the theatre, regardless of age, must have a ticket.
---
Listen to the original London Cast Recording
---

Girl from the North Country Performance Times
---
Monday - Saturday 7.30pm
Thursday & Saturday 2.30pm
CLICK HERE FOR ACCESS PERFORMANCES
Show Running Time
The running time of GIRL FROM THE NORTH COUNTRY is 2 hours 30 minutes, including an interval.
Auditorium and Bar Opening Times
For evening performances a theatre bar will be open from 6.00pm and the auditorium will open at 7.00pm. For matinee performances the bar and auditorium will open at 2.00pm.
Christmas Schedule 2019/2020
Monday 23rd December 2019: 2.30pm and 7.30pm
Tuesday 24th December 2019: No performances
Wednesday 25th December 2019: No performances
Thursday 26th December 2019: No performances
Friday 27th December 2019: 2.30pm and 7.30pm
Saturday 28th December 2019: 2.30pm and 7.30pm
Sunday 29th December 2019: 2.30pm and 7.30pm
Monday 30th December 2019: 7.30pm
Tuesday 31st December 2019: No performances
Wednesday 1st January 2020: 7.30pm
Thursday 2nd January 2020: 2.30pm and 7.30pm
Friday 3rd January 2019: 2.30pm and 7.30pm
Saturday 4th January 2019: 2.30pm and 7.30pm
Sunday 5th January 2019: No performances
Girl from the North Country Ticket Prices
---
Standard Tickets
From £15.00*
Premium Tickets
A limited number of the very best seats, previously held for the Producers or VIPs, are now available to book in advance.
From £100.00*
Please check individual performances for price availability.
Book Tickets

---
Booking Fees
*All prices include a £2.50 fee for bookings made over the phone or online. Booking fees do not apply to tickets purchased in person at the box office.
Prices also include a £1.25 theatre restoration levy which contributes to the on-going refurbishment of our eight theatres. For more information click here.
All ticket prices are subject to change based on demand. Book early to ensure the best seats at the best prices.
Please note: Seating plans are not accurate representations of the auditorium. While we try to ensure they are as close to the actual theatre plan as possible we cannot guarantee they are a true representation. Customers with specific requirements are advised to discuss these with a member of staff prior to booking to avoid any confusion.
Access at Gielgud Theatre
---
Discounts are offered, subject to availability, for disabled theatregoers and one companion, including wheelchair users and Patrons who have specific access requirements.
Access customers must use the buttons below to book specific Access performances (when available).
Access bookings and further information can be requested by calling 0344 482 5137 or emailing access@delfontmackintosh.co.uk.
Gielgud Theatre Access Information
For further Access information at Gielgud Theatre please use the Theatre Access Information button
Girl from the North Country Access Performances
---
Audio Described Performance
Tuesday 7th January 2020: at 7.30pm
Captioned Performance
Monday 13th January 2020: at 7.30pm
Groups Bookings
---
Groups (10+)
Band A and B reduced to £42.50.
For matinee performances on the 12th December and 16th January, Band A and B reduced to £36.50

Excludes Friday and Saturday performances, performances between Monday 23rd December evening performance to Monday 30th December inclusive, Thursday 19th December evening performance, Thursday 2nd January evening performance and Thursday 30th January evening performance.
---
Calls to Delfont Mackintosh Theatres 0844 numbers cost 7 pence per minute plus your phone company's access charge.
All group and education rates and prices are strictly subject to availability and exclusions. Prices include Restoration Levy where applicable and booking fees may apply. Group rates are not valid on Premium seating. Rates and prices may be changed or withdrawn at any time.
See more Groups & Education offers:
For Musicals
For Plays
For Arts & Events
To add some extra sparkle to your evening, why not upgrade your Girl from the North Country booking to one of our Champagne or VIP Packages?
Champagne Package
---
Prices start from £142.50 per person, inclusive of VAT.
If you have already purchased your tickets, you can add this package from £45 per person, inclusive of VAT. Please call 020 7766 2112 to upgrade your booking.
VIP Package
---
Prices start from £196.50 per person, inclusive of VAT.
If you have already purchased your tickets, you can add this package from £99 per person, inclusive of VAT. Please call 020 7766 2112 to upgrade your booking.

---
Please note:
Champagne packages are only available to book until 4.00pm on the day of the performance and until 4.00pm on Fridays for weekend performances.
VIP Reception packages require a minimum of one week's notice. For all VIP Reception packages, supplement fees apply for parties of less than four guests.
Group discounts apply, please ask us for more details.
Hospitality gift vouchers are now available. The perfect option that allows the recipient to choose the show and date that suits them. Ask us for more information.
Hospitality Terms and Conditions
Hospitality prices vary from show to show and are strictly subject to availability. Prices include Restoration Levy where applicable and supplements may apply. Rates and prices may be changed or withdrawn at any time.
Excludes non Delfont Mackintosh Theatres' venues and one off performances
Allergies and Dietary Requirements
We will endeavour to provide alternative menus for any dietary requirements notified within three days of any event. Any additional costs involved for outsourcing catering to specialist companies (such as Kosher) will be chargeable. If we are notified of any allergies we will ensure that these ingredients are not used in the food provided, however we cannot guarantee any dishes are free from trace elements due to the nature of the kitchens.
Please be aware that our products may contain nuts or nut traces.
Due to the bespoke nature of our packages, a menu detailing any allergens used in our food will be available at your event; please ask your designated host if you would like to see it.
Food Safety
Our caterers follow strict health and safety guidelines. Chilled food can only be left out of refrigeration for a maximum of four hours. After this time the food will be deemed unsafe and consequently disposed of. Delfont Mackintosh Theatres cannot therefore allow food to be removed from the venue for the client to dispose of.
Licensing Law
Our licence dictates that all beverages must be consumed on site during the performance times.
ID may be requested for anyone that appears to be under the age of 25.
Hospitality Cancellations
Hospitality bookings (both with and without tickets) cannot be refunded but they may be exchanged prior to the performance provided a minimum of ten days notice is given, subject to availability and a handling fee.
For all other terms and conditions please click here.
Girl from the North Country at Gielgud Theatre
---