Keeping us all safe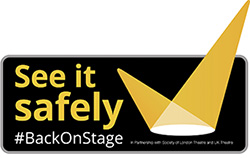 To ensure we are able to provide a comfortable and safe theatregoing experience for everyone, there are a few things we need you to do and know ahead of your visit. Please take a moment to read the information below.
This information will continue to be updated in line with current Government guidance so we recommend checking back again before your performance.
Before You Arrive
The NHS COVID-19 App
All members of your party over the age of 16 will need to use the NHS COVID-19 application to register for Track and Trace upon entry to the theatre.
If any member of your party is unable or unwilling to do so, you will need to complete the form in your pre-visit email ahead of your visit and present the verification email on arrival.
Do not attend if you feel unwell
If you are feeling unwell, do not travel on public transport or attend the theatre. You can let us know that you are unable to attend by emailing using the button below.
You will be able to exchange your tickets to a future performance free of charge, subject to availability.
When You Arrive
On Arrival
Ahead of your visit, you will receive recommended arrival times. Please take note of these. They help us to prevent crowding or queuing.
All members of your party must enter the theatre together. Please only join the queue when your full party has arrived, as there will be no re-admittance to the theatre.
Wear A Face Covering
You will be required to wear a face covering throughout your visit; both when moving around the theatre and during your performance.
If you are exempt due to medical reasons, please let us know by clicking here.
Have your e-ticket ready
We'll have contact free ticket scanning in place upon entry to the theatre. Please have your ticket ready to be scanned to speed up entry.
Cloakroom
We're unable to have our cloakrooms open at the moment. Please only bring minimal belongings that can be stored beneath your seat.
If you require storage of larger items, we have a great partnership with
Stasher
.
Merchandise
Official merchandise for Les Misérables – The Staged Concert will be available exclusively from the Sondheim Theatre. To purchase, simply visit our website from 72 hours before the show begins. Your chosen products will be available for collection at the bar on your level of the theatre.

Look out for this information in your pre-visit email.
Drinks & Refreshments
Drinks and refreshments will be available to pre-order from 72 hours before the show begins via our website, and will be ready and waiting for you from the bar on your level of the theatre.

Look out for this information in your pre-visit email.
Stage Door
Please note that in line with the current Government guidance around COVID-19 and the UK threat level, there will be no Stage Door signing of merchandise and programmes. Please do not send any items directly to the theatre for signing as these will be disposed of.
Inside The Theatre
Staff Face Masks
During your visit, our staff will be wearing clear face masks by XULA, which have been designed to make communication easier. Treated with HeiQ Viroblock intelligent coating, proven to be 99.99% effective against SARS-CoV-2, XULA masks are fully certified and provide >95% bacteria filtration. Reusable XULA masks are environmentally friendly too. XULA are proud partners of Mencap, the UK's leading learning disability charity.
Exclusive Offer for Delfont Mackintosh Patrons
Save 15% when you buy a Xula mask via the button below, using the code DMT15
Sanitise your hands
You'll find hand sanitisation stations located throughout the venue. Please make use of these.
Follow directions from staff
As a safety measure, we have increased the number of ushers in our venues to ensure your visit runs as smoothly as possible. You may be asked to follow specific routes around the theatre so please take note of these. If you require any assistance, do not hesitate to ask.
Wear a face covering
During your visit, you must wear a face covering at all times, except if you are eating or drinking.
If you are exempt due to medical reasons, please let us know by clicking here.
Enhanced Cleaning
The theatre is thoroughly cleaned throughout the day, and common contact surfaces are treated with antibacterial fogging machines.
Security Checks
For your safety and security, we have a number of additional checks before we can admit you to the theatre. We appreciate your patience and understanding while these are taking place. Please be aware that these are all contact-free.
Social distancing
Social distancing measures are in place inside all of our theatres and bars. Please adhere to these guidelines during your visit.
Contactless Payment
In order to reduce physical contact, all of our venues are now cashless, and no cash payment will be taken in bars and retail outlets.